NEWS of little import . . . . .

Things You Should Know: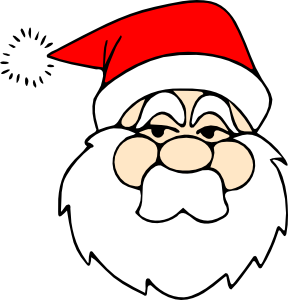 NEWSFLASH!!!
Santa Glass has been spotted in Tijuana, doing tequila shooters with th' Princess!!
NOT EXPECTED BACK FOR CHRISTMAS!!
In his place will be a cheap imitation, uh, I mean SUBSTITUTE jarhead, not unaware of who has been naughty and nice!
~~~~~~~~~~~~~~~~~~

Our annual Christmas Gift Exchange is coming up on December 21st! This is a CLOSED meeting, so don't bring anyone with you. DO, however, bring a gift to be exchanged. Typically, don't spend more than $10 - $15 on something ~ gifts run from "gag" to serious, with many guys (OK, some guys) really being serious about it. I received a nice leatherman-like tool one year that I STILL use (thanks, Frank!)
Whoopee cushions to bottles of booze, negligees to cellular phones turn up, and it's always fun, because our own SANTA runs a tight ship! So, Be there or B Square!
Observations from the Chairman of the Bored Board

Women will never be the equal of men 'till they can walk down the street with a bald head and a beer gut and still think they're sexy!
You do NOT need a parachute to skydive . . . . you only need a parachute to skydive TWICE!
Some cause happiness wherever they go . . . . others, whenever they go.
"I always take life with a grain of salt . . . . plus a slice of lime and a shot of tequila"
"To be sure of hitting the target, shoot first, then call whatever you hit, "The Target"!!




Dave Blomberg bragged on Gary Ross and Bill Green for helping Dave get a condo ready to lease ~ they apparently did "a really nice job", and come highly recommended!


Josh Benedict had a $5 brag for finding out recently that he's gonna' be a Dad, mid to late June!

Gary Ross had a brag thanking Dave (above) for the advertising!

Dr. Ken Reiter had a brag for Jim Manning ~ at the Board Meeting on Tuesday night, the person who was in charge of
bringing the beer (whose initials are JOSH BENEDICT), DIDN'T, so Colonel Manning JUMPED up and drove out into
the DEAD OF NIGHT and returned with Odell's 90 Schilling and Levity Ale, so we didn't have to eat DRY PIZZA!
Hale and hearty HUZZAHS! were heard 'round the room, and the walls echoed with "Manning for Beer Guy!"






Larry Abrahamson had a brag/retirement announcement regarding his retirement. On January 4th,
from 5 - 7, he is having a retirement party atop the towering Rio Grande Mexican Restaurant, and
WE'RE ALL INVITED!!

Our Prez, Pat Reid, announced that the Board approved $500 to the Fort Collins Baseball Club for scholarships. Speaking of which (He Said!), has ANYONE seen the plaque they presented us with??

The Board also approved $1,000 for the larimer County Boys and Girls Club's Youth of the Year Breakfast on February 13.

Dr. Ken Reiter presented "Punkin Chunkin" to the Board on Tuesday as a fund-raising possibility, and on Friday he
recruited members to help with a feasibility study. He says that if all works out, the possibilities are "unlimited" in
terms of fund-raising! Click on the imaginative tagline below for word directly from The World Championship Punkin Chunkin Association (WCPCA) (betcha' didn't even know there WAS such an animal, did you!??!
We're Gonna Hurl!

(click on it!)

If you have trouble viewing this, or just prefer to see it on a large screen,
click here

UPCOMING PROGRAMS - from Lee Cord, V.P. Programs
Dec 7 …Field Trip to Discovery Museum, if the staff can take it - moved to 2013, Lee says
Dec 21…Christmas Exchange, with A NEW SANTA!!
Dec 28 ~ Jim Manning will be showing slides from his recent trip to China ~ He hopes to edit it down from the 2,652 he has now!
Jan 4 ???
Jan 11..Diane Jones, #2 in City Managers office
I will work REAL HARD to get the word out for special programs that we would all like to attend. If you have any doubts or questions, just email (or call) our esteemed Program V.P., Lee Cord ~ 215-9658 or LCord@thegroupinc.com
A Clarification (for those who wondered) by Bill Glass (aka Green Man)
The proceeds from Beer Sales, Flags, and other fundraisers go into our
Sponsorship Accoun
t and allow us to grant funding to Crossroads, Boys & Girls Club, Bob Reed Christmas Program etc.

Our dues cover the cost of our lunches, Aztlan Center, and fees to Sertoma International. That is handled through our
Operating Account.

It is important to understand the distinction between the two accounts, so that the community does not think that any part of our beer sales, tips, and flag revenue is spent to directly benefit all of us "fat cat Sertomans!"
Subject: A Heart warming Christmas Fable

When four of Santa's elves got sick, the trainee elves did not produce toys as fast as the regular ones, and Santa began to feel the Pre -Christmas pressure.
Then Mrs. Claus told Santa her Mother was coming to visit, which stressed Santa even more.
When he went to harness the reindeer, he found that three of them were about to give birth and two others had jumped the fence and were out,
Heaven knows where. Then when he began to load the sleigh, one of the floorboards cracked, the toy bag fell to the ground and all the toys were scattered.
Frustrated, Santa went in the house for a cup of apple cider and a shot of rum. When he went to the cupboard, he discovered the elves had drunk all the cider and hidden the liquor. In his frustration, he accidentally dropped the cider jug,
and it broke into hundreds of little glass pieces all over the kitchen floor.
He went to get the broom and found the mice had eaten all the straw off the end of the broom.
Just then the doorbell rang, and an irritated Santa marched to the door, yanked it open, and there stood a little angel with a great big Christmas tree.
The angel said very cheerfully, 'Merry Christmas, Santa. Isn't this a lovely day? I have a beautiful tree for you. Where would you like me to stick it?'
And thus began the tradition of the little angel on top of the Christmas tree.

Not a lot of people know this.
Have ya' got a spare 2 minutes?? Watch this: CLICK HERE . . . . you won't be sorry!


Larry


BLOWOUT PAHTAAY!!!
On January 4th, Larry is having a retirement party at The Rio from 5 - 7, and
WE'RE ALL INVITED!
(If you have not been to the Agave Room, you're in for a treat! It's upstairs, over the Rio, and a great place to
PAHTEEEEEE!!!!

Lame Duck
Remember, our Tuesday morning coffee group is currently meeting at Whole Foods, still at 7:30 a.m. !
SOW (Sertoman of the Week)
Over 50 years old

Born in a red elction State (Dallas, TX)

Bridge is a favorite pasttime

"Bend, but not break" is unlike his name

IT could be called "Wiley Coyote" (spanish name Lobo,
which he was at the U. of New Mexico

Our previous SOW, Gary Ross (L), hands the trophy to our newest SOW, Don Simecka

This "mini-newsletter" has been brought to you by the letter "O", the 15th letter of the alphabet, AND a vowel! This is not the first vowel we've had, nor will it be the last. But it is one of only FIVE, AND, the name of
"An aquatic masterpiece of surrealism and theatrical romance"

Cirque du Soleil - "O"
That's not to mention OPRAH, once an imposing force on daytime TV, and still someone to not trifle with!

| | | |
| --- | --- | --- |
| Sertoman | Accomplishments | Birth/Death |
| Ed Hull | | |
| Stan Shalla | | |
| David James | | |
| Don Sendgraf | | |
| Dick Manges | Past President | |
| Bill Banks | Past President/ Past Governor | |
| Marvin (Marv) Fries | Charter Member | |
| Harv Nesbitt | | |
| Jim Nichols | Charter Member, Past President, SOY | 10/5/29 ~ |
| Gen. Bill Mauer | | |
| Jim Hoeven | Charter Member | |
| Pete Montagriff | | 9/15/34 - 4/15/ 2005 |
| Jim Waltz | | 11/2/36 ~ 8/23/2005 |
| Ron Kresl | | 3/29/32 / ~ 12/18/05 |
| Bob Leinart | | 4/30/41 ~ 2/16/06 |
| Larry Chaussee | | 11/4/58 ~ 12/19/06 |
| John McLean | | 8/23/39 ~ 2/10/08 |
| Chuck Blazek | | 5/17/39 - 5/22/2007 |
| Denny Farnsworth | Past Pres. & SOY | 6/23/41 ~ 6/10/09 |
| Russell Butler | | 1/9/46 ~ 12/11/09 |
| Paul McCoy | | 5/14/31 ~ 12/11/10 |
| Jerry Bender | | 2/21/1948 ~ 3/1/2011 |
| Dick Ziporlin | | 2/8/1931~ 6/4, 2011 |
| Bob Reed | Operation Santa Claus | 9/5/1932 ~ 10/5/2011 |
| John Drescher | Charter Member / Sgt. at Arms/ Ski Trip | 8/29/31 ~ 2/12/2012 |
| David Lee Thomas | | 8/6, 1930 - 1/16, 2013 |